An exceptional « Nature-Spa » wellbeing area
October 2014: the «Nature-Spa» by La Cheneaudière is awarded «Best Hotel Spa in Europe» by the prestigious Villégiature Awards.
In the Bruche Valley in Alsace : a Spa nestled in a beautiful setting where the unspoiled nature is synonymous with serenity: composed with mineral, vegetal, wooden elements, this resourcing world is bathed in pure water, light and warmth. Open 7 days a week, our new Spa features:
– 2 500 sq. m. dedicated to wellbeing and relaxation, featuring state of the art facilities such as 4 pools, 5 saunas including one glass sauna, 1 beehive steam room, a wood-bath, a micro-bubbling beach, a sensory shower walk…
– «Simples et Miel» natural cosmetics, a range of beauty products created by Mireille François, the owner, produced from the generous nature here in the Bruche Valley.
– 3 spacious private suites privatives drawing guests into exceptional treatments: « prairie », « forêt » and « montagne » (meadow, forest and mountain).   Virtual spa tour
A wellness area to heal your mind, body & soul
Water world at the « Nature-Spa »
This luxurious place opens onto a vegetation wall and a rain shower, and into relaxing quietness.
Then towards the indoor pools (33 °C) with hydro-massage course and beach micro-bubbling jets: water, sensations and peaceful silence.
Outside, a natural basin filtered by plants (biotop). You can dive in or sit on the small pontoons and let their feet dangle in the water, enjoying the feeling and benefits of pure water on the skin.
Summer and winter, on the terrace of the "Pool-Family", you can also enjoy a large pool-jacuzzi stainless steel with micro-bubbling system and heated to approx. 34 ° C.
Opposite the large indoor pool is a wooden hot water bath (36 °C), a large barrel with a fireplace awaiting those who really feel the cold for a warm and intimate moment.
The Spa also features sensory showers with varying water temperatures, a polar bath an a copper fountain of ice to stimulate the blood circulation.
Europe's largest flotarium here on offer: a water tank filled with water and 4 tons of Epsom salt for a unique sensory experience.
Well-being is in the air in La Cheneaudière :
For your total relaxation, 5 saunas, including a Finnish sauna (+80 °C) and 1 steam room are awaiting you in the " Nature -Spa " wellbeing area:
The sauna " Sledge " (+70 °C) refers to the wooden sleds typical of Alsace and the Vosges. It offers panoramic views through its huge glass window and allows you to relax in sleds or wooden swings.
The sauna "Tonneau" (+75 ° C) outside, with view on the forest
The wet heat "sanarium" (+55 ° C) ideal for children or people who can not withstand the high temperatures of saunas
Both " Kraxenofen " hay saunas (+45 °C) typically offer lower back, back and neck relaxation. With its large variety of flowers, this organic hay releases coumarin, whose virtues calm the mind and stimulate the body.
The large steam – hive  is a nod to the «Simples et Miel» (Plants & Honey) range of beauty products. Guests can nestle in alcoves like in the alveoli of a hive.
The kingdom of letting go : Sense, breathe, feel, listen … Let yourself go into daydreaming, take the time to take the time …
To make you feel the wonderful energy of this magical nature, terraces have been set here and there… All forms of relaxation await you: two tepidariums (heated daybeds), wrap-up beds, couches shaped like wooden barrels or outdoor suspended bed…
Absolute nature: " Plants and Honey", unique and authentic
The range of natural cosmetics " Simples et Miel " created by Mireille François .
Therein lies the common theme of the cosmetic range «Simples et Miel»: pure water from the sources of Colroy-la-Roche, honey from the hives of La Cheneaudière, flowers and medicinal plants («simples» in French, simple remedies as opposed to scientific remedies) from the meadows around, and berries from the forests of the Vosges mountains.
Our treatments are elaborated with fresh produce : organic milk, organic cottage cheese, honey from the village, garden herbs, regional plants …
Guests can enjoy body and face treatments, scrubs and wrappings consistent with the location and the seasons : flowers, oatmeal and honey release here their natural benefits.
3 private treatment suites
3 spacious private suites will draw you into exceptional treatments: « prairie », « forêt » and « montagne » (meadow, forest and mountain) consistent with the area.
Suite « Prairie » : Light and plants
The benefits and wonders of flowery meadows and flower honey.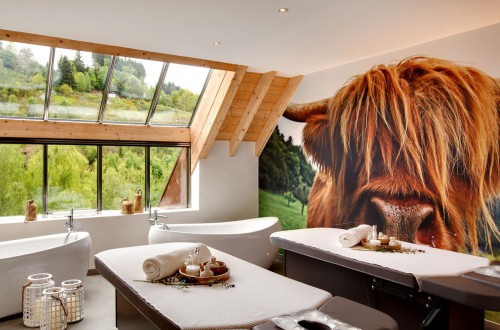 Suite « Forest » : Light and wood
The virtues of magical forests, fir honey.
Suite « Mountain » : Twilight and minerals
The energy of stones , wild berries and honey from the mountains.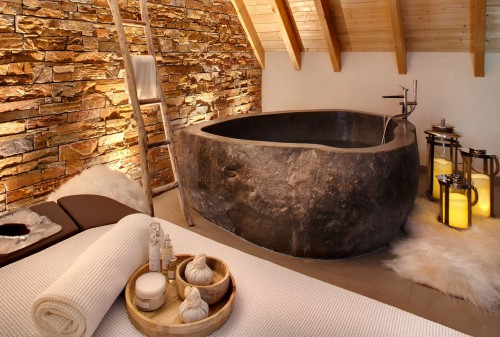 Plan of Nature-Spa – Floor 0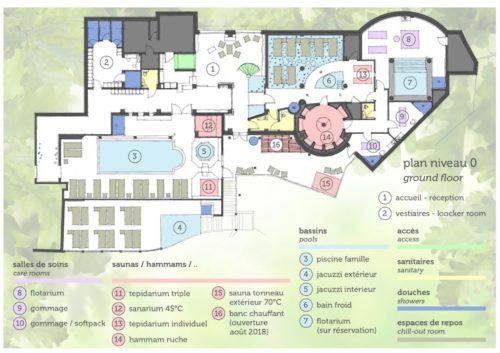 Plan of Nature-Spa – Floor 1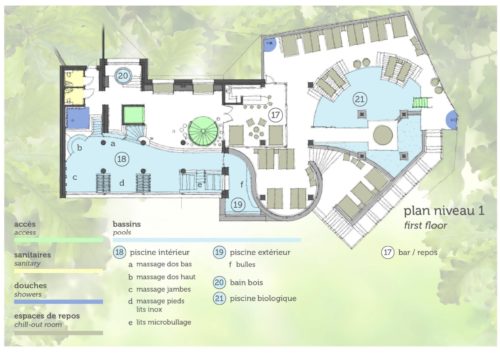 Plan of Nature-Spa – Floor 2